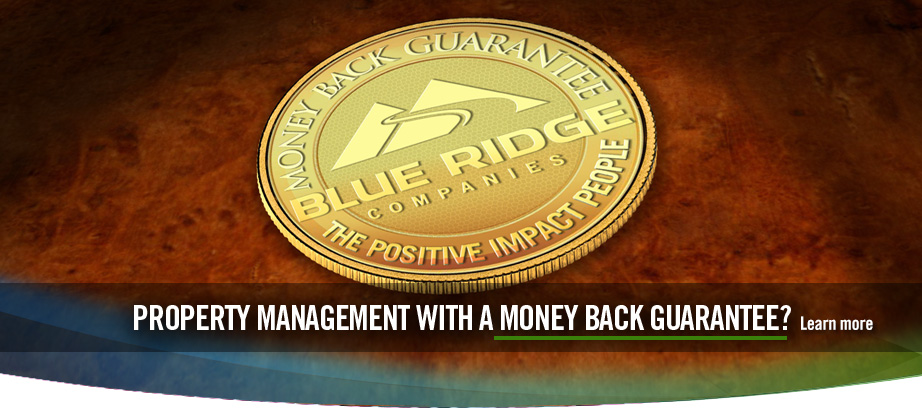 Management Services - (Property Management) Positive ImpactTM
At Blue Ridge, we understand that each property is unique and different strategies are required to perform in different markets. That is why our management services are dynamic in design, and proven in practice. For over a decade, Blue Ridge managed properties have outperformed their markets through the combination of exceptionally trained on site teams and guidance from our seasoned regional and corporate personnel. Balancing innovative technology with the expertise only experienced insight can bring, Blue Ridge has improved industry recognized best practices and formed a comprehensive approach to property management that we call Positive Impact.
Call us today to learn more about our Positive Impact strategy.
1-800-410-7228 ext 1529
or email us at:
Management Services
Select from the Positive Impact approaches below to learn more.
Communities only perform as well as the people who are placed in charge of running them. That is why Blue Ridge invests over 10 times more in our employees than the national average and ranks in the top 5 nationally of management companies with employees who hold industry recognized designations. Ensuring your continued success, Blue Ridge's area, regional and upper management team members average an unparalled 20 plus years of industry experience at the national, regional, and local level. Staying ahead of the trends and keeping our fingers on the pulse of our markets, Blue Ridge's management team focuses on providing leadership and support for its onsite staff while empowering them to achieve higher revenues and fewer expenses through improved leasing and retention and more efficient operations and accounting. With accolades and industry designations too numerous to list, Blue Ridge offers you and your community the support of the industry's absolute best. Through strategic growth, Blue Ridge has been able to expand its portfolio while maintaining the same levels of accountability and transparency to its clients that earned the company's sterling reputation over a decade ago. By combining the capabilities of a large firm with the accessibility and attention to detail of a small firm, Blue Ridge's Positive Impact team is able to cater every aspect of its property management services to its clients' individual goals and effectively enhance the value their investments. We invest in the people who will protect your investment.
From day one in our industry, our customers have determined which communities are successful, and which aren't. Blue Ridge acknowledges this truth and works diligently in our day to day management operations in order to create a Positive Impact in the lives of our residents - by creating value for our residents, we create value for you. For this reason, we are especially proud that Blue Ridge is ranked #1 in the nation in terms of resident satisfaction, and we have a 91% resident recommendation rate, in comparison to the industry average of only 87%. Detailed action plans to address community and resident concerns, resident engaging social events, and convenient and personalized interaction provides residents with a value that can only be obtained by choosing to live at a Blue Ridge managed community. At Blue Ridge, we know that happy residents equal higher retention rates, which in turn lead to higher returns for you.

Key Facts:

- #1 nationally ranked in satisfacts resident satisfaction survey, happy residents = higher retention
- Action plans, creating value for customers = long term customers
At Blue Ridge, the Positive Impact Revenue and Return strategy is both
relentless
and
firm
in its approach to maximizing our client's
bottom line
. In addition to
capitalizing rental revenue
through the industry's most advanced price optimization software, Blue Ridge is a recognized industry leader in
creating ancillary income
. Through creative all inclusive lease programs, to washer and dryer rentals, to valet waste and pet programs, Blue Ridge is
diligent
in its mission to create additional value for its residents and revenue for its clients. Simultaneously, Blue Ridge is
steadfast
in the belief that "every penny saved is a penny earned," and implements the industry's best expense management and capital expenditure programs. Detailed reporting allows our
experts
to identify areas where overspending or neglect could be significantly decreasing a property's value. After
extensive analysis
of a property's needs, Blue Ridge offers its clients the benefits of its advanced budgeting practices, portfolio wide bulk purchasing power and preventative maintenance programs. Furthermore, by calling on its internal and external networks, Blue Ridge constantly reevaluates all of its vendors and pricing programs to ensure that our clients receive the most competitive rates available. In addition to the Revenue and Return services, our clients have access to Blue Ridge's line of consulting services, which include full site Due Diligence, Tax Appeals, Re-Financing and Brokerage services.
Key Facts:
- National or Local Purchasing – capable of both, utilize whichever benefits clients most
- Price optimization
- Ancillary income
- Expense management
At Blue Ridge Companies, we understand that protecting the environment and our client's investments are not just two goals that can co-exist, but are also mutually beneficial. Catering to an industry where at least 62%* of customers look for homes that are environmentally friendly, Blue Ridge carefully structured its Positive Impact environmental awareness initiative to meet such an important demand. Relying heavily on our Environmental Committee to implement eco-friendly programs, Blue Ridge remains current and ahead of any issues regarding the environment has been able create a Positive Impact on our communities' image and value. From the installation of low flow water savers to CFL bulbs, Blue Ridge is able to substantially decrease energy usage in our communities' common areas, which dramatically decreases monthly operations costs. Always mindful of how our clients allocate their funds, our environmentally focused initiatives all decrease costs and carry a very short return on investment, creating a win-win situation for our clients and the environment.
Community is a term that resonates strongly at Blue Ridge Companies. As evidenced from its philanthropy and numerous charitable acts, to its very mission statement, Blue Ridge aims to create Positive Impact in every community it serves. By aspiring to
"do the right thing"
Blue Ridge has been able to create good will within local governments and the larger multifamily community as a whole, evidenced by the company winning local business ethics awards and actively aiding our industry by serving in various legislative committees and industry leading groups such as the NMHC and the NAA and its regional affiliates. Blue Ridge believes that when local communities succeed, our clients also succeed. By constantly participating in local events and charities, Blue Ridge is able to glean an
advanced understanding of the communities
that they operate in, and are able to translate this knowledge into
targeted services
, resulting in greater brand awareness for your community. Blue Ridge Companies prides itself on being a company that establishes long term relationships, and we go to great lengths to remain a partner that our clients are proud to do business with.
- Philanthropy gives clients an attachment and visibility in their respective communities – working together to improve communities
- Piedmont Triad Business Ethics award
At Blue Ridge, we understand that effective marketing and reputation management is critical to the ongoing success of your community. This is why Blue Ridge employees our own internal marketing team to make sure that your community is not only known, but well perceived within its community. Extensive social networking initiatives, unique community branding, and comprehensive search engine optimization (SEO) protocol enables Blue Ridge's Positive Impact marketing strategy to provide you with MORE LEASES. In addition, a proactive Reputation Management program allows us to monitor resident satisfaction surveys, online apartment ratings and reviews, market trends, and lead volume in order to meet the demands of a complex and unique target market. Blue Ridge knows that each community is unique, and we work diligently to preserve each individual client's image and integrity.


Key Facts:
· Reputation management
· In-house marketing and publications director
· Unique branding for every community
· Social network integration and application
· Lead tracking and capturing software implementation